We should have taken the KLIA express pass, but accidentally bought the KLIA transit ticket. The boarding area for both train are in different ends of KLIA sentral
first meal: Caesar salad in KLIA
Non-vege option in MAS flight, quite nice with spicy chicken, even though it look bland
hotel room in The Park Hotel, Anna Salai
toilet
shower
room with a clear glass dividing the bed and shower area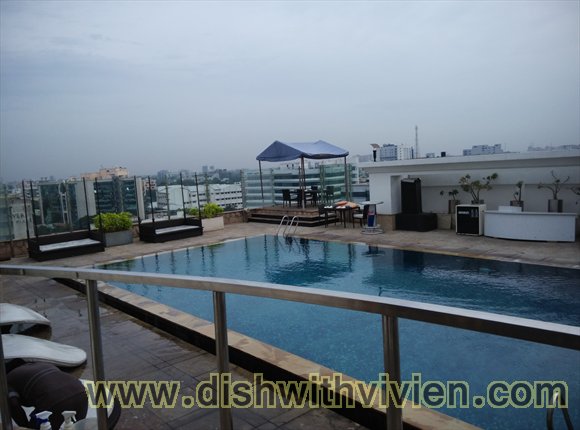 hotel swimming pool on the 8th floor
gym on 9th floor
breakfast
cornflakes and banana
omelette station
fruits in breakfast
sambar = dhal curry
paneer paratha
vada
steam fish
muffins
pastries
aloo paratha
my omelette
thosai available during dinner
very delicious home-made bread
dinner plate 1
dinner plate 2
dinner plate 3
dinner plate 4
dinner plate 5
dinner plate 6
fried bread with potato
aglio olio
basil tomato
in pesto, salty, generally the food in the hotel is very salty until we wrote in comment sheet and submit to the reception, then the food become less salty from that day onward
freshly made naan
apom is quite nice with cheese and mexican beans
very delicious mushroom pizza
extremely thin crust and super delicious!
very good banoffee pie
not liking this
dessert plate 1
dessert plate 2
dessert plate 3
dessert plate 4
Lunch in food court in office
chinese prawn fried rice, ok, tired of indian food and went for this one fine day
vegetable fried rice on another day
apna ka dhaba, our colleague in India brought us to this nice indian food for lunch 2 minutes drive from office
No. 8/113, Kavimani Salai, Mogappair West, Chennai
papadam with fresh mint dipping
naan/paratha/kulcha
Main course
rice/briyani
delicious chicken curry dish
yummy aloo paratha and kulcha
chicken briyani
India KFC Menu, everything in India comes in vege and non-vege options
KFC menu
office pantry, the food here is super cheap
this plate above cost only about 5o rupees (~RM2.70) prevailing currency rate 10,000 ruppees = RM540
office lunch meal 2, love the paratha here
office lunch meal 3
office lunch meal 4
office lunch meal 5: samosa at 10 ruppess (~50 cent)
madras coffee house in food court in office building
filtered coffee, slightly too sweet
nalas aappakadai serve food apom, but their gravy (chicken curry, mutton chetinad are nothing worth mentioning, disappointing actually)
nalas menu
tapao the apom and bought it up to office to eat
nandos in india are bigger portion (bigger chicken and sides) and same deliciousness
nandos menu 1
nandos menu 2
nandos menu 3
nandos menu 4
India Pizza Hut
firecracker pizza
Pizza Hut menu 1
Pizza Hut menu 2
Pizza Hut menu 3
Pizza Hut menu 4
So Cheezy Super Vegetables pizza, not nice as the cheese on the side taste like some fake nachos cheese sauce
There is a buy 1 get one free deal on every wednesday, and we got the above Paneer Vegetables pizza for free. Between the 2, super cheezy is just so so, the paneer pizza is better
pizza hut bill
India subway: Non Vege option
India subway: Vege option
Subway menu 1
Subway menu 2
My aloo patty (potato patty) with addition of egg is superb, love the spiciness of the potato patty
Starbucks india in Phoenix mall
My masala chai lattee is a spiced latte, not bad for me. But for those who don't like cinnamon etc spice, it may be awful
ibaco ice cream in Express avenue mall, quite nice and cheap
My ice cream of 2 flavor cost only 114 ruppees (70 ruppees for 100g)
Hard rock nachos
humos dip platter, all the dips are really salty 🙁
chicken
tequila prawn, quite salty for me
my berry drink is really sweet 🙁
this is realllly good, Hard rock cafe cheescake: Baked cheesecake with honeyed sour cream topping is really delicious, the bottom is walnut biscuit crumb is really good as well
yummy!
Hard Rock cafe drink menu
Hard Rock cafe appetiser
Hard Rock cafe starter
total bill for 4 pax, only around RM50 per pax
sign in airport, 10,000 is only RM540, so little! Even when entry to India, we have to sign a custom declaration mentioning we have no more than 10,000 Indian ruppees!
cafe in Chennai airport
vege fried rice in airport, just so so and portion so small
Non vege meal in MAS plane back to Malaysia
Pringles in India are already produced under Kellogg's
My dream panini grill, quite expensive: 5600 ruppees
Everest is one of the famous brand for indian spice, bought a sambbar masala for making dhal curry
my food loot from india
Comments Off

on 19 days working trip to Chennai, India