200 pictures in this post!
Our flight from Kuala Lumpur to Sydney, take about 8-9 hours. We took a morning flight, leaving KL time 9:10am, reaching Sydney about 8:20pm, 3 hours time difference. Before departure to Australia, make sure you apply for ETA visa, i did mine with Holiday Tours & Travel Sdn Bhd. by just online inquiry in their website (Apply through travel agency is cheaper), and bank transfer RM30 per visa, and they will send back a text file which we just need to print it out.
Holiday Tours & Travel Sdn Bhd.
A-0-1, Block A, No.1 Jalan Seri Utara 1, Sri Utara, Off Jalan Ipoh, 68100 Kuala Lumpur, Malaysia.
Website: www.holidaytours.com.my
view from plane window when we almost reaching sydney, taken on local time 8pm! when the sun is just starting to set
Bought a weekly pass called "MyMultiZone3" $63 allowing us to use all train,ferries,light rail and bus for our 6 nights trip. To get back to airport using train, we will have to pay $21 extra as "airport access charge" return tickets.
Taking the google recommended route 🙂 International airport -> Wolli Creek, then to Kings Cross station. I think it is easier than switching train in Central which is a biggest station and longer walk between platforms.
most city trains has 2 level seatings
Our hotel for the first night in Springfield Lodge in Kings Cross (a red light district) but we felt pretty safe although they are here and there some scantily clothed girls. The double bed is really small to be shared by two. We actually bought 4 different type of rooms for 6 nights stay(small double, basement double, twin, basement twin). I preferred basement twin and we got transferred to stay in budget basement twin for the rest of the nights. It is actually best to stay in basement twin as the fully equipped kitchen is on basement, and there are elevator, whereas our first night in this small double room is on the top floor which has no elevator, and carrying big luggage in narrow stair is a pain
another view of the room, kettle/cup/fridge are hidden in the cupboards
bathroom
narrow stairway to this top floor, try to get other room with elevator access, and don't stay in top floor(ie rooms starting with 4xx)
hallway on top floor
front view of our hotel Springfield Lodge, just 5-10 minutes walk from Kings Cross station with Coles supermarket opposite the station.Some other good hotel you may try are Regents Court/Lido Suites Hotel/Bayswater Sydney which located is similar area as this hotel
Kings Cross station
Kings Cross to Central, go on a 2 hours train ride from Central to Blue Mountain Katoomba station
"Blue Mountain Line" train available hourly from Central to blue mountain's Katoomba station
Once reach Katoomba station, you may buy $40 Explorer link bus ticket (http://www.explorerbus.com.au/home.aspx), refer to their timetable for their bus only available 9:45 till 5:30pm, we didn't use this option, instead went cheap using MyMultiZone3 which includes travelling on their local bus in blue mountain area, however as we realised later, their local bus has very limited stops are well, basically local bus doesn't commutes from Katoomba area to Leura, and we end up walking a long way back to Leura station.
Our first stop in blue mountain: Katoomba
One of the lookout in Katoomba
Katoomba Cascades
toilet in blue mountain open only till 5pm
plenty of ducks and white feathered bird in this park somewhere near Katoomba cascade
Map of katoomba falls area (Reid's Plateau, Katoomba Falls, Katoomba Cascades)
Scenic World experience:9am-5pm unlimited rides on the 52 degree Railway, Skyway, Cableway and 2.4kmWalkway $35
Unlimited ride for $35, or you may opt to walk from above till below to the train area, then taken the one way train up for $14
Scenic Railway train ride operates regularly during the day, with the last train leaving at 4.50pm, looks exciting, but quite meh, the ride is a very short one, only exciting for first few moments, then it stops and reach the bottom station
so called 52 degrees train ride.
looking out from train wide window
from the scenic railway bottom station, we could walk and reach the cableway station
15 mintes walk to cableway
this is the walkway to cableway
cableway car
from cableway, we can take another ride similar to cableway, but with glass floor.
Us waiting for the skyway tram (on the left coming towards us)
glassfloor
open air skyway ride
to reach this way called "scenic way" station
this is the Explorer link bus timetable mentioned earlier.
From Scenic World, we waited for local bus to take us to famed Three Sisters. Above left of 3 stones jutting out is the 3 sisters.
closer view
from 3 sisters, we can walk towards the Prince Henry Cliff Walk to Leura cascades, which marks the beginning of our long and tiring walking, little hiking to Leura train station
to Leura Cascades
One of the lookout along the way
walk out into main road, Leura cascades yet to be found
going back into the trail again which reads "to Leura Cascades"
walk…
Bridal Veil Lookout to the right, we walked left to Leura Cascades
finally Leura Cascades
walk back to main road, only Explorer link bus and TrolleyTour bus(http://www.trolleytours.com.au/) stop here. No local bus will bring us to the train station. Here marks another long and tiring walk to Leura train station. Fortunately Google Offline Map which could detect our location to the rescue. Nobody walking/hiking in sight, and only a few cars passing by and it is almost bout 4pm.
Finally a sign which reads "Leura Mall", which is just next to station. By the time we reach Leura mall, around 5:30pm, all the shops are closed 🙁 Can't try flowerpot scone in Wayz Goose Cafe anymore (next to lolly candy store)
So we waited for the hourly train back to Central station
15 minutes walk from Central station to Mohr fish.
Address: Mohr Fish, 20 Devonshire St , Surry (11am-10pm)
menu
dine in menu 1
dine in menu 2
takeway menu 1
takeaway menu 2
Their fish and chips (only $9.50 for takeway) is really quite good and really cheap, their tartare sauce is good as well. Their bouillabaisse soup($12.50 for takeaway) is just so so, not recommended.
Our room for 2nd nights onward, this is better, twin bed, and kitchen just next door
shower, the shower door is jam though
Bought an adapter as can't find it in Malaysia
Flour and Stones, cakes for breakfast
Monday – Friday: 7am-4pm; Saturday: 8am – 2pm
Really really nice vanilla cake, the cake is incredibly soft and not heavy, paired with delicious cream and nice homemade raspberry jam
view of Sydney tower from Hyde park which we didn't manage to go up
on our way to Circular quay walk towards opera house
harbour bridge
circular quay ferries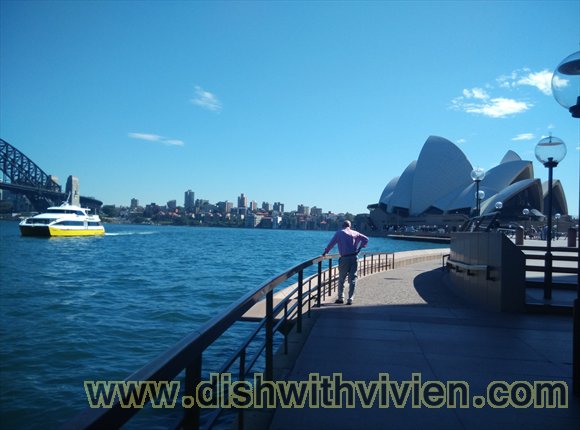 opera house just to the right
on our ferry ride to Watson bay
view of opera house from ferry
Watson Bay
Doyles Takeaway or the more expensive "Doyles On the Beach" to the left
Doyles takeaway
seating area
nice fish and chip!
nice pacific oyster
lamingtons bought from Flour and Stones earlier, it is just so so for me, not liking the rough coconut shreds on it.
It is a moist cake with the same raspberry jam i think, but the rough coconut just not nice
walked thru military road, Gap Road and Old South Head road to the Gap park, continue 2.1 km to Macquarie Lighthouse (Australia 's first lighthouse)
closed up
yacht club for the rich
We took ManlyFastFerry from Watson bay to Manly, instead of using our weekly pass from Watson back to Circular Quay then back out again to Manly.
Lunch before the next long walk, Papi Chulo
menu
menu
open kitchen
our orders
oyster with green apple mignonette, $3.50 each
Curly fries, very very salty, perhaps this could be beer food, but simply too salty for us
cauliflower, i think they pre-steamed the brocolli, saw them putting into oven for just a moment, then serve on a plate with red pepper sauce, tablespoonful of breadcrumb thingy, and lots of cheese, not bad, quite a good invention, the red pepper sauce is nice
view from restaurant
Address: Papi Chulo 22-23 Manly Wharf, Manly, Sydney
Monday to Friday 12pm – 3pm and 5.30pm – 10.30pm; Saturday 11.30am – 10.30pm; Sunday 11.30am – 9pm
Then we took Bus 135 from West Esplanade Stand J, Manly to North Head Scenic Dr opp Q Station, then walk about 20 minutes to North Head scenic drive.
There is actually a bus station much nearer ro North Head called north fort museum bus stop, but the bus stopping time are very limited, for afternoon only 2 trips back into city (1:55pm and 3:55pm), we waited for the 3:55pm. There are timetables like this in all bus station, very useful indeed, and the time bus arrival time is very much accurate, about 5-10 minutes difference maximum
bus route of bus 135 is also depicted in bus stop
after walking 30 minutes of so, we reach north head area in Manly
Fairfax walking track in north head with a few lookouts
one of the lookout looking out to beautiful cliff with waves
looking towards Watson bay in the opposite shore and Sydney city at far distance
Manly beach
walking towards shelley beach
along the way, there is this nice swimming pool just next to the Ocean, how cool is this, actually went swimming few laps and the water is freezing! Shelley beach is nothing much there, and there is a signage saying that the beach is polluted (with garbage etc) especially after heavy rainfall
Ferry ride back to city, freezing with cold air blowing…
another view of Sydney opera house
we went to Friday night market in China town and saw a stall named Mamak selling roti canai, roti telor and satay, the chinese looking girl can flip a mean roti canai, really good skill
prices of rotis
Saturday morning to Eveleigh Market in Redfern, MUST VISIT, a lot of local food producers gathered here showcasing and selling delicious stuff. This market is on every Saturday from 8am to 1pm, with over 70 local farmers and artisan food producers. 245 Wilson St, Redfern
busy busy
cheap and fresh oyster
4 types: live sydney rock, live pacific, live delux pacific and black label
as recommended by the person, i tried 2 black labels on the left. It is huge, but very fresh tasting and there is some scallop texture thingy in the middle, yummy! only $2.50 each. To the right is the usual Sydney rock oyster
fresh apples by Mr Apples, no wax, sold by kilo, tasty
Margin's Mushroom, according to them their mushroom can last 3 weeks in the fridge as it is very fresh. Their mushroom is sent to distributor in Melbourne, and "re-distribute" back to stores in Sydney, so buying it fresh here could last you quite long in the fridge
very fresh looking, no bruises
sold by bag
Some tasty looking dessert by Gumnut, didn't had any
Yalla sell some seriously delicious yogurt and dips! so good
promotion for their dips
price list
my strawberry yogurt for $3, they have promotion, 4 yogurts for $10, very creamy and tasty
this guy from Fare Gourmet looks like Italian/Greek people, a little bit of Dustin Hoffman lookalike, seems quite serious about making brownies which is what he mostly sell
delicious angus beef from Moobi Valley from hunter valley, the beef is very tender and nice
waiting for my steak sandwich
yum yum
creative: almond base bread
Willowbrae Chevre cheese has very creamy and delicious cheese, veerryy nice!
Then off to take the take the train to go the The Rocks market (near Circular Quay station), open from 10am to 5pm every Saturday and Sunday of the year, before that we went to the Tea Cosy for their famous scones, located along the Rocks market. Address: 33 George Street, The Rocks, their scones are baked fresh and available every Saturday and Sunday 9am till 11:30am, any later you will have to order their high tea set with sandwiches etc
menu
Website: The Tea Cosy
Order and pay inside, you will given a number stand, once the scone is freshly baked out of oven, they will send it over to your table
fresh scones, can't really say the scones are the best, but it is warm and quite nice, and the cold buttery cream, and homemade pear and apple jam with just the right sweetness complements the scones really well, go try
one of the unique stores in The Rocks market, kangaroo real leather by Alan Warner, bracelet or necklace. There are also stalls selling necklaces made with read leaves inside, unique necklaces made with watch skeletal, basically a lot of unique accessories made locally. MUST VISIT this market
One of the notable stall is AHW Creations with their unique "watch" necklaces etc.
more stalls
our lunch in the market, just so so, $15 for 3 skewers of choice, complementary rice and salad
La Renaissance (Address: 47 Argyle St , The Rock, 8:00 am – 6:00 pm) just next to The Rocks market, their macaron is really nice without being sugary sweet, tried their jasmine green tea flavor
one of the cafe near the market selling gigantic pies!
very near to the Rocks market, we can walk to Observatory Hill Park  (Upper Fort Street, Millers Point) for view of Sydney harbour bridge. On this fine saturday, we saw a wedding ceremony and 2 other brides taking photographs in this park
some kind of bird with long beak widely seen in Sydney
view of bridge from observatory park
took a bus to Lorraine's Patisserie Pies, Shop 5, Palings Lane, 320 George St (opposite Wynward station) only to find they runs out of hot pies, only cakes available. They are known for beef pies
Not far away is Sydney 's Angel Place , an art installation – Forgotten Songs of 110 empty birdcages suspended high in the air that play the songs of fifty birds, artificial of course
Nearby is Strand Arcade 412 George street with famed Haighs Chocolates (9am-4pm), the chocolate is very nice!
in Strand Arcade kitchen department, they sellling unique items by Ariete, popcorn maker, Slushy maker and cotton candy maker, and there are not that expensive
Adriana Zumbo macaron in QVB Queen Victoria building, 455 George Street (9:00 am – 6:00 pm), tried their salted caramel, very stick sugary sweet, don't like it, perhaps other flavors are better
walking towards David Jones gourmet food hall, basement 65-77 Market Street (9:30am-7pm), just down the road from QVB
to try their Reuben sandwich from Ruby & Rach
this is really good, normally i don't eat pickles, but everything just meld together, warm toasted bread, very delicious, MUST TRY
Short distance walk away is Hyde Park, a medium size park with 2 couple taking wedding pictures here
one of wedding picture taking group
back to Chinatown to try the Emperor's puff  (Emperor's Garden  Cake & Bakery, address: 96-100 Hay Street, Haymarket) which always have long queue. Their puff is piping hot as it is baked fresh, but the filling just taste of artificial vanilla pudding, can skip this. From chinatown, it is a short walk to Central station, then train back to hotel
Coffee, Tea & Me near our hotel
87c Macleay St. Pott Point Mon – Sun 7am – 8pm
everthings looks retro and artsy, sandwich being warm up in hot griddle on the left
bagel sandwiches available
i chose salami, tomato and cheese
Woolsworth supermarket just few shop down the road, expensive cili padi 😉
The ever famous Bourket street bakery is available in Macleay Street in Pott Points as well, just across the road in small alley from Coffee, Tea & Me
Address: Bourke Street Bakery
46a Macleay St (entrance via Crick Ave ) 7am-5pm Monday to Friday; 8am-5pm Saturday and Sunday
inside the store
Pork and fennel roll, not bad
Their dessert are really nice, both the tart (lemon curd tart and ginger creme brulee tart) are with very creamy smooth fillings but their crust remain crispy and nice even after few hours, wonder what they put in the crust, possible not all butter, some shortening perhaps?! And the flourless chocolate cake is very light, almost light like a chiffon cake. Side note: David Lebovitz post on this bakery.
Found out they actually have own recipe book "Bourke Street Bakery", definitely have to try to make their ginger brulee tart one day. Recipe as below
Ginger Brulee Tart (The Boy Who Bakes)
Ginger Brulee Tart (A Table For Two)
Ginger Brulee Tart (Life is Great)
Go back to put our Woolworth loot back in hotel, then walk quite a bit, and took bus from Oxford Street to Bondi Beach! We stroll a bit in Bondi market, nothing much there, except maybe for a stall selling leather bags made from local Sydney designers. Other than that, many are chinese looking people selling very normal looking accessories, can skip this market. Then we went to Bills to try their award winning ricotta hotcakes.
79 Hall Street
, Bondi Beach(7:30am-10pm)
inside the restaurant, busy on a Sunday aftenoon
footpath seating permit on display
orange squeezing machine
here it is ricotta hotcakes with banana and honeycomb butter
laced with ricotta inside, nothing spectacular, taste like normal pancake, and very heavy, felt so full afterwards
adriana zumbo ice cream just next door, too full to eat anymore, did taste test their dark chocolate which is very nice, also tested their pandan coconut doesn't taste nice
Bondi beach, too overcrowded
For activities in Bondi, you can check out this informativel link:
http://www.sydney.com/destinations/sydney/sydney-east/bondi/beach-lifestyle
people everywhere
huge beach
Bondi Icebergs with full size swimming pool just next to Bondi Beach, looks spectacular
walking towards Tamarama beach and Bronte beach
nice view towards Tamarama beach and Bronte beach
coastal walk map showing the 3 beaches in this area: Bondi, Tamarama & Bronte
This is a very nice spot(MacKenzies Bay) between Bondi Beach and Tamarama breach, just be careful of the rocky steps, and they are shades under the rocks where we can have a nice afternoon nap between dipping into cooling water in between the rocks covered with seaweed. They are some rocky formation which block of some of the strong waves, very nice to just sit and dip inside the sea swayed occasionally by the stronger waves, have to be careful as well as strong waves will shove us towards the shore.
Tamarama beach
Closer view
Bronte beach
Closer view of Bronte
Bronte beach minimum and maximum air temperature board
taking bus from Bronte to Bondi junction, then take train back to Kings Cross station
Tonight we will pack our luggage, bought some vege, cooked instant noodle and stayed in for the night. For a 6 nights trip, our daily activity is getting shorter and shorter, first night we went back reach the hotel at 10pm plus but we went back hotel earlier as the days go by, the last day we reach hotel about 5:30pm, tired from trip and wanting to go back home already. I think for oversea trip, 2 nights could be short, 3 to 4 nights could be ideal? Above is their kitchen, very fully equipped. For this trip, we stayed 6 nights, with 5 full days in Sydney, perhaps to try 4 full day for next travel? For this time, it is quite stressful trip as planning for all itinerary and the kiasu me wants to go everywhere, not like the previous more relaxing Bandung trip with driver or the visiting friend's previous maid in Cambodia with not any itinerary
all the cutlery and some basic seasoning (salt, pepper, oil, soy sauce)
many pot and pans
even a seating area
at night, eating the haigh chocolate, very smooth and nice
Last day, trip to Sydney fish market is recommended to avoid the weekend crowd, we took Sydney Light Rail from Central Station to the Fish Market stop) It is open from 7.00am till 4pm
Fish market
Doyles is just opening although we reach the market quite late, about 10am i think, some very fresh looking oyster, cheap as well, $2-$4 each to try
Peter's
Our cold platter, $30, fresh and nice
sashimi service available
Just specify the price of salmon you want, and they will cut it out for you
My $5 worth of salmon sashimi, cold and fresh salmon sashimi
John Dory fish and chips, the john dory is very ordinary, in fact a bit fishy, not nice
Thereafter, we walked to nearby Harris St and took bus 443 to reach George street, just opposite of Wynyard Station, took the train from Wynyard to Milson Point, it is too hot a noon day sun, and we are just plain tired mentally physically on this last day, we didn't explorer Milson Point, instead just took the train to the next destination: Strathfield, then bus 525 or 526 from Everton St(just next to the station) to Underwood Rd Near Homebush Bay Dr to DFO Homebush, a direct Factory outlet, selling items at discounts (open mostly 10am-6pm). Found some good deals on Oakley and bought a heels from Shoe Warehouse, not very cheap for me, although could be cheaper for Australian standard, there is an Oroton shop filled with people and people are buying their bag etc.
cheap cherries available now, only $6.50 for this 750g box
some drink sold in airport purportedly to prevent jetlag, increase circulation and hidration.
even sold in vending machine
Some food/places we didn't manage to try:
1) Mr Crackles,155 Oxford St(corner of Oxford&Crown) thurs-Sat:Noon-2am pork belly roll
2) John Montagu (Monday — Friday:7am-4pm;Weekends:7.30am-4pm), 144 Cathedral Street, Woolloomooloo
3) Fratelli Fresh, 11 Bridge Street Mon-Fri: 6-10pm
4) Popolo, 50 McLachlan Avenue, Rushcutters Bay
5) Buffalo Dining Club, 116, Surrey St, Darlinghurst(noon-11pm)
6) Black Star Pastry, Newtown for their Strawberry Watermelon Cake!
Cost breakdown for this trip:
1) (2 pax)6 nights hotel stay: RM2400 (we book the hotel like 1 month before which resulting in cheaper options are not available, if you booked earlier, may get RM300 per nights in Kings Cross's Springfield lodge)
2) (2 pax)airfare for 2 pax: RM1512
3) (2 pax)Misc for flight(20kg to and 25kg back, meals, insurance etc): RM388
4) (per person) Miscellaneous spending (tickets + food + some shopping): AUD$850  ~ RM2500 (including $84 weekly transportation pass + blue mountain scenic world pass $35 + approx $300 for food only per pax)
(per person) Total spending approx RM4,700
Useful Sites
Sydney Trains: http://www.sydneytrains.info
Found this site: http://www.wotif.com/ very good in providing info of price of each hotel (ie listing out lowest price for each day of the week for hotels)